The Girl with Two Breasts is the fifth episode of the first season of Coupling. It aired on the 9th of June, 2000.
Summary
[
]
Jeff sees a beautiful woman alone in a pub. The attraction is mutual, but they struggle with a language barrier. They chat and end up creating a huge confusion. The girls are just jealous of the Israeli girl who is very beautiful. Steve and Patrick think of names for a porno film. 
Plot
[
]
Jeff and co. can't take their eyes of a beautiful stranger in their local bar. And the girl can't take her eyes off Jeff. Jeff goes over to talk to her, only to discover that she doesn't speak a word of English, which to Jeff of course is quite a relief. Her interpreter, Alice, tells Jeff she's Israeli, then whisks her away.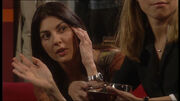 The next day the girl is back and Jeff attempts to chat her up. With neither speaking a word of the other's language, it is an utter disaster. The girl is led to believe that Jeff fancies Alice, not her. Jeff is led to believe that 'Shadayim' is the girl's name, when in fact it's Hebrew for 'breast'. The girl reluctantly arranges for Alice to meet Jeff at the bar the next day. When Jeff says to Alice, 'I'm sorry, I was expecting Shadayim,' the flat-chested Alice punches him in the face.
Embarrassing Moments
[
]
It's a tough call, but a particularly squirm-worthy moment is when Jeff shouts "breasts" in Hebrew across the crowded bar. Steve gives him a thumbs-up and shouts "breasts" back.
Jeffism
[
]
Cast
[
]
Main cast
[
]
Supporting and guest cast
[
]
Anat Dychtwald as 'The Girl' in the bar
Ruth Lass as Alice
Sarah Joseph as Girl at bar
Alaistair Southey as Barman
Background information
[
]
Trivia
[
]
The trademark red couch is conveniently faced so the group could watch The Girl for this episode only.
The language Jeff speaks during the episode was completely made up by Richard Coyle.
The type of narrative, telling the same story but from the perspective of several different characters, would be repeated in the season 3 episode, Remember This and the season 4 episode, Nine and a Half Minutes.